An important part of Glenfarg's more recent history was the coming of the railway, the changes it brought to the area, and its demise in the Beeching era. Find out about the railway, hear the memories of the residents who remember the station and saw it disappear, and learn how you can still follow the line of the railway today.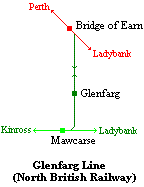 The Line. In 1890, the North British Railway opened a line to Perth to coincide with the completion of the Forth Rail Bridge.The line ran from Mawcarse Junction to Bridge of Earn via Glenfarg. It had been no easy task. North British Railway experienced problems because of the landscape, which required 2 tunnels within 4 miles. These tunnels can still be explored today - but take a stong torch and wear wellie boots!
Read the details here

Glenfarg Station was built to serve this upland area on the site called Damhead. The settlement that rapidly grew up around it became equally rapidly known as Glenfarg. The village thrived, with up to four hotels at its peak. Some of the village's more unexpected buildings reflect the wealth at the time: including what used to be the Arngask Library, built in 1892, and Arngask Parish Church build in 1908.
The village benefited from a station until the line was closed to passengers in 1964. The railway itself was closed in 1970, part of its track then being used for the M90 motorway.
Glenfarg Village Train Stop Garden – the idea of local voluntary group Glenfarg and Duncrievie in Bloom (GDIB) – reflects the important historic role the railway played in the growth of the community in the 19th century. A specially commissioned panel with historic photographs of Glenfarg explains the village's railway heritage.