RAILWAY HERITAGE MARKED IN GLENFARG
Village celebrates their past and looks forward to the future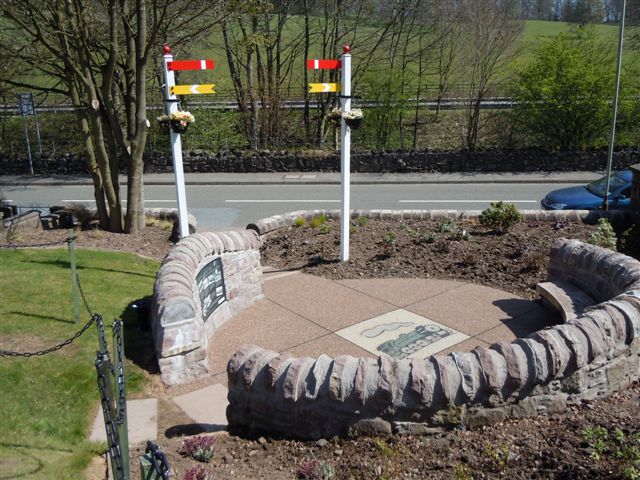 Local school children from Arngask Primary School, along with the oldest resident in the community who attended the school, Yona Scott, opened a new public space and garden in Glenfarg on Thursday 3rd May 2012.
The garden – the idea of local voluntary group Glenfarg and Duncrievie in Bloom (GDIB) – reflects the important historic role the railway played in the growth of the community in the 19th century. A specially commissioned panel with historic photographs of Glenfarg explains the village's railway heritage.
The garden also looks forward to the future as it provides a new focal point on Glenfarg's Main Street for everyone to enjoy as a space to meet and relax.
To mark the special occasion, the children of Arngask Primary School performed Glenfarg Station, a Scottish country dance devised by local resident Robin Lambie.
This is the latest of many projects organised by the group to improve the village environment for everyone's benefit. It has been made possible by fundraising and voluntary effort provided by members of Glenfarg and Duncrievie in Bloom as well as additional funding and support from the Take a Pride in Perthshire Association, Perth and Kinross Quality of Life Fund, SITA and Rural Tayside LEADER.
Chair of Glenfarg & Duncrievie in Bloom said, "What we see here is an example of partnership work in action. With the support of key partners, the community of Glenfarg & Duncrievie has created a place that both marks its history and promotes its future. We hope residents and visitors will enjoy this for many years to come."
Mrs Helen McCann, Chair of Take a Pride in Perthshire added, "We are delighted that GDiB has delivered another successful project which has made such a positive impact on the appearance and life of Glenfarg. It is an excellent example of what people can do for their local community."
For Perth & Kinross Council, Keith McNamara, Head of Environmental and Consumer Services, commented, "We are very pleased that this collaboration by local people and organisations has created such a wonderful new facility for the community to use and which also marks the village's important railway heritage".
BACKGROUND INFORMATION Glenfarg and Duncrievie in Bloom was formed in October 2005, to improve the environment of Glenfarg and Duncrievie for the benefit of all residents and visitors. Previous projects include creating permanent planted displays, restoring the War Memorial and working with Arngask School to create Wildlife and Vegetable Gardens. The group facilitated the transfer of the Glenfarg Green from private to public ownership and care for the 3 acre site, the collection of over 100 tree species and the pond. With the help of BBC Breathing Spaces, volunteers have created seating, labelled and planted trees, installed nesting boxes, cleared the pond and created a new entrance as part of Scotland's Iconic Trees Project. The group has won many awards for their contribution to the community – including the Take a Pride in Perthshire's Best Community Involvement award in 2006; Best Youth Involvement for work on Glenfarg Green in 2007 & 2009 and Gold in the Large Village section in 2010.
Take a Pride in Perthshire (www.prideinperthshire.org.uk) is a local community organisation representing more than 30 local volunteer groups who undertake environmental improvements in Perth & Kinross.
THIS PROJECT WAS PART FINANCED BY GLENFARG AND DUNCRIEVIE IN BLOOM, THE TAKE A PRIDE IN PERTHSHIRE ASSOCIATION , SITA, PERTH AND KINROSS QUALITY OF LIFE TRUST AND THE SCOTTISH GOVERNMENT AND THE EUROPEAN COMMUNITY RURAL TAYSIDE LEADER 2007-2013 Programme