Judging 2019
This year the Kinross-shire Civic Trust's annual Well Kept County Competition was entered by Glenfarg after a break of several years.
Glenfarg was entered in the Villages category and included every street, garden and building from Drunzie to Marinden Park. A self nominated special initiative (Glenfarg Green) was also submitted.
As can be seen from the score sheet the judges considered everything and at the Awards night it was a pleasure to hear them comment on the fact that on all their judging visits they encountered no litter at any location.

Although GDIB submitted the entry it was done on behalf of the village and all of its residents.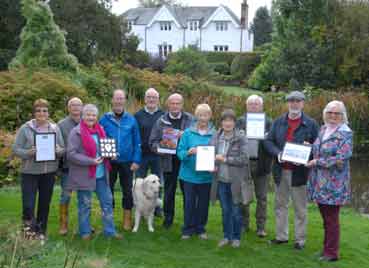 See the comments of the judges

In other competitions this year GDIB has been outstanding, thanks to the hard work of all the volunteers and supporters.
In Beautiful Scotland (an extremely exacting national competition) GDIB was awarded Silver Gilt missing out on Gold by only 5 points.
Next up came the awards night in Perth for Take a Pride in P&K when volunteers, Alison Harrison & Douglas Fraser, returned with awards aplenty. In the Large Village category GDIB were awarded Gold and were commended for their Solheim Cup Display entry. In addition GDIB was presented with the Most Improved Community Shield which demonstrates clearly "the distance travelled" from previous years.