In 2008, after a 15 year fundraising drive which culminated in the challenge to raise £40,000 in 40 days, our fabulous new village hall was opened. Find out more about this remarkable journey to keep the 100-year-old building at the heart of our community, and ready for another century of work.
The Journey
It started as somewhat of a tall order, but one the Village Hall Committee was always convinced it could achieve - to regenerate the hall, increase community participation and reduce social isolation for local people by replacing the existing extension to the building to improve capacity and storage, and to provide better and more improved services for local residents and neighbouring communities.
While it may have been a big achievement from the outset, it was one which received overwhelming and essential support from a number of trust funds, including the Big Lottery in Scotland.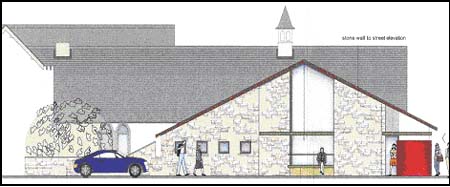 Architects' plans of the new look village hall
It's a remarkable achievement after 15 years of work for a group of dedicated volunteers who have remained committed to dragging the historic building and community amenity firmly into the 21st century. In the words of the committee, a 'new and exciting facility' has been created to replace the 'much-loved but decrepit building' that has in the past excluded a proportion of the community due to its lack of modern-day amenities. The transformation of the hall into a vibrant, multi-activity centre for the whole community is now no longer a pipedream.
The entire project didn't come cheap, however. But thanks to an extensive round of fundraising initiatives, such as music nights and raffles and donations from a number of local and national funds, and drawing on the infallible enthusiasm and commitment for the regeneration project to succeed, work started on site in the summer of 2007. This was in no small way due to the amazing, worldwide response to an 11th hour appeal to raise a spectacular £40,000 in 40 Days by the deadline of 30th June.
We did it! The
£40,000 in 40 days

Appeal

Thanks to overwhelming support, locally, nationally and around the globe, our Another Brick in Wall Campaign where you 'bought' a brick for the new development for just £1 helped us achieve our ambitious £40,000 in 40 Day Appeal target to secure matching funding from a range of funds and agencies!
To all those who donated to the £40,000 in 40 Days Appeal - thank you! We couldn't have done it without you.