Glenfarg comprises the communities of Glenfarg, Duncrievie, Drunzie and Arngask.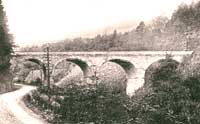 Originally known as Damhead, the village benefitted from being a stagecoach stop–over as horses were rested en route between Edinburgh and the Highlands. Famous visitors over time are said to have included Mary Queen of Scots, Sir Walter Scott and even Scotland's celebrated poet, Robert Burns.
The name of the village was changed in the 1890s when the newly completed railway began to bring tourists to the area – and 'Glenfarg' was felt to be more appealing than 'Damhead'.
The story of settlement in the area has been traced back over two thousand years by the Rev. James Mackie M.C., M.A. and reproduced in the Annals of Arngask.
The coming of the North British Railway produced another episode in the continuing story of Glenfarg.
In more recent times, the community has come together for the Renovation of the Village Hall.